The Hong Kong SAR Government will distribute free reusable face masks to all Hong Kong citizens. The giveaway CuMask+ face mask has patented design and layers specially made with copper. The mask is called CuMask+ with "Cu" being the symbol of the chemical element copper or meaning "I really want to see you".
With a multi-layer structure, the CuMask+ face mask serves as an effective barrier to droplets. The ergonomic design of also ensures a secure fit. The mask is effective for 60 washes. After that, it can continue to be used by replacing the filter.
The mask is made of six layers of functional materials, the outer and anti-microbial layers of which are specially made with small quantities of copper, capable of immobilizing bacteria, common viruses and other harmful substances.
Meanwhile, the filtration layer blocks most of the particles, bacteria and droplets, which is protected by the protective layer. The skin comfort layer is used to absorb mositure.
The mask features a multi-layer structure with the outer and anti-microbial layers contain a minute quantity of copper.
According to a new research study led by National Institutes of Health (NIH) of the U.S. Department of Health and Human Services, the new coronavirus survives on copper surfaces just up to four hours, which is much shorter than 24 hours on cardboard and 2-3 days on plastic and stainless steel.
CuMask+ face mask reaches the American Society for Testing and Materials (ASTM) F2100 Level 1 standard in terms of particle filtration efficiency (PFE), bacterial filtration efficiency (BFE) and resistance to penetration by synthetic blood. It is for virus prevention in the community and not meant for medical staff.

The mask has been sterilized using ozone at the time it is packed. There is no need to wash before it is used for the first time.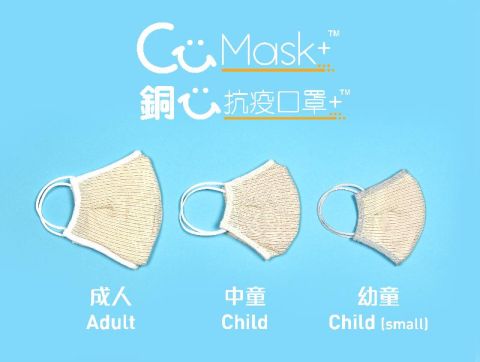 The mask is available in three sizes: Adult, Child and Child (small).
Designed for efficiency, comfort and sustainability
CuMask+ face mask was developed by The Hong Kong Research Institute of Textiles & Apparel (HKRITA) with funding support from the Innovation and Technology Fund. The mask design is patented and was awarded a Gold Medal at the International Exhibition of Inventions of Geneva 2018.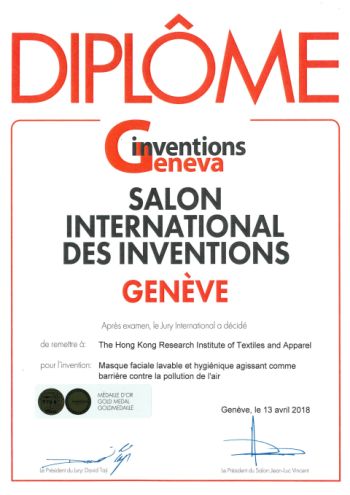 The patented mask design was awarded at the International Exhibition of Inventions of Geneva.
HKRITA first began developing reusable face mask in 2017. The aim was to develop an innovative and washable face mask that delivers enhanced filtration efficiency, maximizes wearer comfort as well as sustainability performance.
This previous version features an ergonomic design, with a dimensional cut designed to seamlessly and comfortably fit the face. The multilayer design maintains good air permeability and breathability.
In addition, it is made with materials developed for washability, and retains its filtration performance effective for 20 washes. Its 3D design is carried out by a 2D cutting, allowing for simple packaging.
The new CuMask+ face mask to be distributed has modifications based on the previous version, including using copper elements to suppress the virus and is effective for 60 washes.