Molten, a Japanese automotive components supplier, has used BASF's Ultramid Balance to produce a new rear bumper stay, an automotive part designed to protect the underbody of vehicles. This innovative polyamide (PA) solution has been used in Mazda's newly launched car models Mazda 3 & CX-30.
"Rear bumper stays are exposed to chemicals from the road and high heat from the silencer, causing parts made with conventional materials to deteriorate and deform over time. However, with Ultramid Balance, the rear bumper stays are highly resistant to heat, oil, most solvents, aqueous solutions, and alkalis," said Yasumoto, Senior Adviser, Body Product Development Section, Molten.
This innovative material solution, which consists of 30% glass fiber resin, possesses higher long-term service temperature and chemical resistance with stabilizers and polymer technology. As compared to other polyamides, this advanced material has lower moisture uptake, which ensures rear bumper stays remain dimensionally stable in humid environments.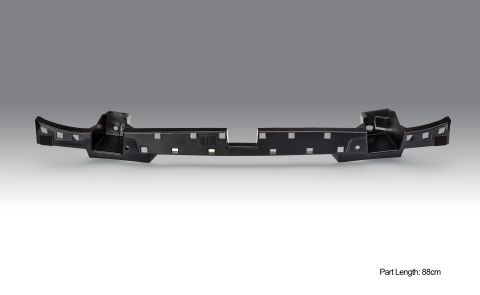 Molten has used BASF Ultramid Balance to produce a new rear bumper stay.
Besides, the bio-based sebacic acid, which is originated from the castor oil plant and used to produce Ultramid Balance, offers a more sustainable solution. Ultramid Balance is well received in the market, also due to its superior performance compared to the standard polyamides such as PA6 and PA66.
"Every automotive part has its requirements, depending on the intended value proposition of the vehicles. This is where our close collaboration with automotive OEMs enables customized material solutions to meet customers' specific needs," said Andy Postlethwaite, Senior Vice President, Performance Materials Asia Pacific, BASF.
"We are committed to bringing in our expertise to provide solutions that can add value to our customers. We are excited to learn that two car models, Mazda 3 & CX-30, which used BASF's high performance materials in their design, have been named as finalists of the 'World Car of the Year 2020'." said Isamu Yamamoto, Director Performance Materials, BASF Japan.