The number of known coronavirus cases over the world continues to surge, and there are signs that the global chemical industry has been affected.
When sharing his perspective with CPRJ, Dr. Kevin Wu, Senior Vice President and Managing Director of APAC at Ascend, emphasized that the company will not change its long-term strategy as the epidemic should only be a short-term situation.
In his opinion, the first priority is to restore demand and supply as soon as possible.
CPRJ: What are the impacts of the epidemic to Ascend as one of the world's largest fully integrated producers of PA66 resin?
Dr. Kevin Wu: There have been impacts for us and for everyone in the industry. First, the epidemic causes a decrease in customer demands. Since some of our customers are from the automotive industry, the current situation has exerted a negative impact on the sales volume, which means "zero sales".
Our direct customers are companies selling auto parts and they have suspended manufacturing for quite a while directly after the Chinese New Year. Under such circumstances, the market has witnessed a slowdown in demand for our products, especially in China.
Overseas markets have also been affected to some extent. For instance, our customers in Japan and South Korea who rely on materials and parts supply from China are experiencing difficult times. In addition, these overseas customers also have customers in China, so we have been affected indirectly from this perspective.
Besides, logistics is another area that has been affected, since some of our goods cannot be delivered as scheduled. Although most of our goods are transported from the US, they then need to be transported in China to the final customer location. Due to the epidemic, there is a shortage of labor in loading and haulage services, which then leads to cargo being stranded in port.
CPRJ: What did your company do and participate in fight the epidemic? What adjustments have been made during this period and after the epidemic?
Dr. Kevin Wu: At present, Ascend headquarters in the US and Ascend's Asian team are working closely together to coordinate the purchasing of medical supplies and equipment from overseas, which includes protective suits, masks and gloves. We will provide these supplies and some financial donations to Hubei directly, contributing our part to the fight against the epidemic.
In the meantime, our colleagues from Ascend's headquarters and our other offices all over the world have shipped masks to help our Chinese employees.
Ascend's management team also set up an Emergency Response Team to implement precautions in the workplace as per the government's instructions, to create a safe working environment for employees, customers and other relevant parties.
We have now already resumed office operations from early March. However, if employees have special circumstances or needs, they can still choose to work from home. We have established and implemented a complete epidemic prevention system, such as routine disinfection schedules and quarantine procedures for travelers returning from severely affected areas.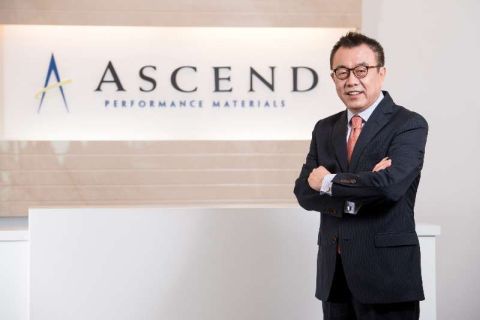 Dr. Kevin Wu, Senior Vice President and Managing Director of APAC at Ascend.
The first priority is to restore demand and supply
CPRJ: CHINAPLAS is rescheduled to take place in August 3-6. What is your opinion? What are the impacts of the postponement on the company?
Dr. Kevin Wu: I don't think there is any impact. I am very glad to see that the new date can be confirmed. Besides, I believe the epidemic should be fully resolved by August, so it is a perfect time and we will actively participate in the show.
CPRJ: Will the company consider making adjustments to the CHINAPLAS exhibition plan, such as exhibits, concurrent events participation, press conference, etc.?
Dr. Kevin Wu: Our exhibition plan and arrangement will remain the same as before. When the market recovers after the epidemic, we will make more efforts to increase our presence at CHINAPLAS and expand the promotion of our new products.
In my opinion, the first priority is to restore demand and supply, which plays a critical role in securing a positive overall performance for Ascend this year. Since the epidemic is just a short-term situation. We cannot let that impact our long-term growth plan.
To deal with these short-term impacts, we need to focus on restoring demand and customer service as soon as possible. We will certainly make some adjustments accordingly in terms of meeting short-term demands from some customers, but we definitely will not change our long-term strategy.
Positive industry trends expected in the second half of this year
CPRJ: What do you think about the market and industry trends in the second half of this year?
Dr. Kevin Wu: We believe there will be a strong growth in the market and positive industry trends in the second half of 2020. In addition, we've also noticed that the epidemic has caused some changes in people's concepts, for instance, regarding mobility, which is related to the automotive industry we care about most.
I think the change of concept is good news to this industry. People may feel that if a similar outbreak occurs again, when there is no car, it is still very inconvenient, so there will be a boost in demand for cars.
Since quite a large portion of our business comes from the automotive industry, I'm very confident that we will embrace strong growth as the industry recovers in the second half of this year.
There will be no change in our investment plans for China or the Asia Pacific region. These plans will not be affected by the epidemic.