The Chinese plastics processing industry has been experiencing "a rather difficult time" due to the uncertainties in the global economy. It is suggested that the Chinese machinery builders should put more efforts on R&D and further explore the domestic and overseas markets in order to strengthen their positions.
According to the statistics of China Plastics Machinery Industry Association (CPMIA), the total industrial production value and industrial sales value in 2018 for the 37 listed enterprises reached RMB 32.78 billion and RMB 31.58 billion respectively, an increase of 1.1% and -0.3% compared with the same period in 2017.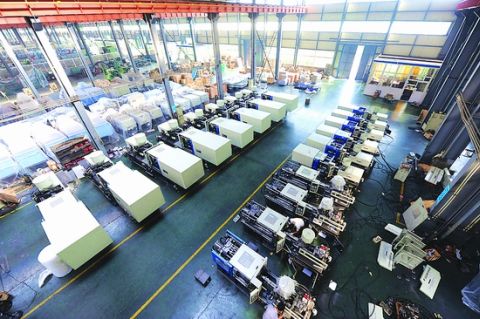 The main business income and total profit were RMB 29.34 billion and RMB 4.34 billion respectively, a year-on-year decrease of 1.4% and 0.7%. The export value was RMB 7.69 billion, a year-on-year increase of 8.6%.

However, the year of 2019 is "a rather difficult time" for Chinese plastic machinery manufacturers. From January to April 2019, China's plastic machinery industry had 447 enterprises above designated size, of which 109 were loss-making enterprises, an increase of 14.74% year-on-year.

The loss was RMB 115 million, which was higher than the loss of RMB 94 million in the same period of last year, according to the data released by CPMIA.

Su Dongping, Secretary-General of China Plastics Machinery Industry Association, pinpointed that the growing loss of the industry was mainly due to three major factors: Sino-US trade dispute, the rise of environmental protection and the decline of the automotive market.

"This is a relatively difficult time," Su Dongping stressed. "Due to the gloomy economic situation, the Chinese plastics machinery manufacturers should put more efforts on R&D."

She mentioned that the lightweight technology for automotive is particularly important in the future because the market demand for new cars will grow when the economy recovers.

Exploring domestic and overseas markets

Despite uncertainties in the global economy, Su Dongping said there is still certain domestic demand thanks to China's large population. "The Chinese plastics machinery manufacturers should increase their efforts to open up domestic market. At the same time, they should also extend their global footprints in the emerging markets, such as Africa, and Southeast Asia, especially India," she said.

Haitian is one of the Chinese enterprises that expand its presence overseas. Earlier this year, Haitian Huayuan Vietnam started the construction of its second-phase plant in Vietnam to enhance its local production capacity and meet the growing market demand.

Le Andun, General Manager of Haitian Vietnam said at the ground breaking ceremony: "The start of the 7,000-square meters plant of Haitian Vietnam is a symbol of Haitian's 10-year vigorous development in the country."

Meanwhile, Guangdong Yizumi Precision Machinery Co., Ltd. has also practiced its globalization strategy and constantly explored overseas markets. From North American subsidiary to France spare parts center, Belgium Environmental Plastics Innovation Center, German R&D center, Indian subsidiary and Vietnam Technical Service Center, YIZUMI has reached the markets of Americas, Europe and Asia.

At CHINAPLAS 2019, Zhang Tao, YIZUMI Deputy Managing Director and General Manager of Injection Molding Machine Division, said India has become one of the main driving forces for growth of YIZUMI's overseas business. The Indian plant has produced 100 machines after putting into production for a year. In 2018, YIZUMI India's sales exceeded RMB 40 million, making India the company's largest single overseas market.

In China, there are also some new opportunities for the plastics machinery manufacturers under the current economic climate. At CHINAPLAS 2019, Wu Zhenwei, General Manager of Multiplas Enginery Co., Ltd., said, owing to the international trade issues, some enterprises have moved their production back to China, which in turn triggered the demand for Multiplas' machines.

"This year, there was an enterprise who moved its manufacturing site back to China, bought a total of 30 injection molding machines from us in one time," Wu revealed.

Another solution provider Shanghai-Fanuc Robotics Co., Ltd., was also optimistic for the domestic market development. Li Xiang, Section Chief, Sales Department of Injection Molding Machines at Fanuc, said the company will also have some new movements in Guangzhou, Wuhan and Chongqing. By the end of the year, the sales and R&D centers all over the country will put into operation to explore new markets.