Plastics production expected to decrease
In 2018, global plastics production almost reached 360 million tons. Yet in Europe, there was a slight decrease in the plastics production from 64.4 million tons in 2017 to 61.8 million tons in 2018, according to the latest market report "Plastics – the Facts 2019" published by PlasticsEurope (the Association of Plastics Manufacturers in Europe).
The European plastics industry includes close to 60,000 plastic raw materials producers, plastics converters, plastics recyclers and plastics machinery manufacturers. It had a turnover of more than €360 billion in 2018.
The European plastics industry had a positive trade balance of more than €15 billion in 2018, with data including only plastic raw materials producers and plastics converters. The USA was the first trade partner of the European Plastics Industry in value.
Meanwhile, European converters demand in 2018 reached 51.2 Mt, including thermoplastics, polyurethanes and other plastics. For geographical distribution, converters from Germany had the largest demand (24.6%), followed by Italy (13.9%), France (9.4%), Spain (7.6%), the United Kingdom (7.3%), and Poland (6.8%).
For distribution of plastics converters demand by application segment, packaging (39.9%) and building & construction (19.8%) by far represented the largest end-use markets. The third biggest end-use market was the automotive segment (9.9%). For resin types, the leading polymers were the polyolefins (PE & PP).
The report forecasts that in 2019, the negative trend for plastics in primary forms and plastics and rubber machinery will continue in line with the European expected economic developments. The estimated growth rate of production is -5% for 2019 and -0.5% for 2020.
"The plastics manufacturers are suffering from the weak economic development not only in Europe, but also worldwide", concluded Dr Rüdiger Baunemann, Regional Director – Central Region PlasticsEurope and Director General PlasticsEurope Deutschland e.V. "Economic development has lost considerable momentum, important customer industries are showing weak to clearly negative growth rates."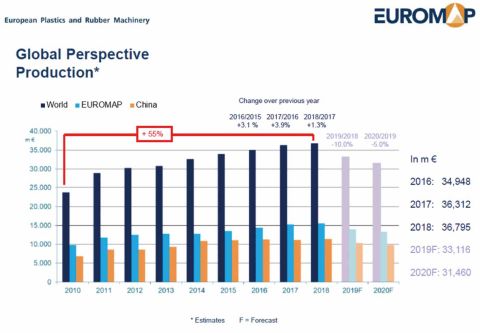 Global and European plastics production.

Packaging recycling continues to progress
The European plastics industry's progress and new developments to increase sustainability and circularity of plastics were also unveiled in the report. They show that the European plastics industry is highly committed to accelerate its transformation towards a more circular plastics economy.
Since 2006, the volume of plastics waste sent to recycling in Europe has doubled. Regarding plastic post-consumer waste figures, the trend is more positive: in 2018 collection increased from 27.1 million tons in 2016 to 29.1 million tons in 2018 and quantity sent to recycling increased almost 12% reaching over 9.4 million tons.
Regarding plastic post-consumer packaging waste, the trend is even more positive. Since 2006, the quantity sent to recycling has increased by 92%. In 2018, 17.8 million tons of plastic post-consumer packaging waste were collected in order to be treated.
According to the report, more than half of the countries have plastic packaging recycling rates above 40%. In 2018, 17 countries had recycling rates higher than 40% and 3 countries higher than 50%.
Javier Constante, President of PlasticsEurope and Commercial Vice President, Packaging and Specialty Plastics Business EMEA of DOW Europe took stock of the key developments since the association launched its Plastics 2030 - Voluntary Commitment.
"It shows the industry is moving beyond its targets to implement the European Plastics Strategy. I see a lot of determination from the industry to accelerate concrete solutions to fight marine litter, change business models and go beyond the recycling targets," he remarked.
Machinery manufacturers face turnover drop
It was estimated that the value of production of global plastics and rubber machine manufacturers was increased by 1.3% year-on-year in 2018, reaching €36.8 billion. Among them, the European plastics and rubber machinery manufacturers accounted for the largest share (42.3%) which amounted about €15.6 billion.
For European plastics and rubber machinery industry, the value of production increased by 1.9% in 2018. However, since last year, there have been signs of a slowdown in the economy.
"After 10 years of continuous growth and an increase in the EUROMAP production of 59% since 2010, 2019 will see the expected economic dip," said Luciano Anceschi, President of EUROMAP, the European umbrella organization of major national plastics and rubber machinery associations.
He explained that in addition to the global economic slowdown, the most important factors are the global automotive industry downturn and investment reduction. These are mainly due to the China-US trade negotiations, Brexit and unanticipated laws on the use of plastics.
EUROMAP forecasts a turnover decline of 10% for European plastics and rubber machinery manufacturers in 2019, and the negative trend will continue in 2020 with a decrease of 5%.
The forecast of the VDMA Plastics and Rubber Machinery Association is in line with that of EUROMAP, expecting the same percentage of decline in turnover for the German manufacturers.
In 2018, the German plastics and rubber machinery manufacturers generated a turnover plus of 2% again compared to the previous-year period. It is obvious that 2019 cannot achieve the good results of the previous year.
VDMA also concluded that the cyclical economic downturn, great insecurity prevailing in the automotive sector, and the trade conflicts are the negative influencing factors.
For the situation in Italy, the output value of Italian plastics and rubber processing machinery in 2019 is expected to decline by 8.5% year-on-year, while the export value is expected to drop by 7.9%, according to AMAPLAST, the Italian Plastics and Rubber Machinery Manufacturers' Association.
Although the current market outlook of plastics and rubber machinery manufacturing is not so optimistic, the rise of circular economy is bringing new business opportunities, as manufacturers enable a functioning circular economy by applying their technologies.
The European Strategy for Plastics in a Circular Economy has set a target total of 10 million tons of recyclates in new products by 2025, and a goal of ensuring that all plastic packaging is recyclable by 2030.
At present, the European production is about 2.5 million tons and EUROMAP believes there is plenty of room for increase. In addition, the image of plastic packaging will be improved, facilitating the rapid development of the recycling market.
VDMA supports the definition in the EU plastics strategy. For this, there must be adapted regulations for the various customer industries. For example, a quota for packaging can be the right incentive.
"Makers of plastics and rubber machines consider themselves important partners of the circular economy in the plastics industry. We supply the necessary technologies for its implementation," emphasized Ulrich Reifenh?user, Chairman of the VDMA Plastics and Rubber Machinery Association.
Mario Maggiani, General Manager of AMAPLAST, also concurred that that circular economy is driving the development of plastics processing industry.
"End-users are increasing the proportion of recycled materials in their products which are thinner and lighter to reduce carbon emissions. This is a business opportunity for equipment manufacturers," he remarked.