Muller Technology Colorado (formerly CBW Automation), a leading US supplier of robots and automation solutions for thin-wall packaging, has launched the M-Line robot, a new integrated robotic and automation system.
As introduced, the system delivers greater flexibility and versatility for production of injection molded packaging.
The new automation line represents an evolution from previous designs and a major refinement which expands the window of applications for packaging manufacturers, according to Muller.
The M-Line accommodates multiple mold types/pitches and multiple cavitation (single to 48-cavity), unlike current automation systems which are restricted to certain molds and specified cavitation.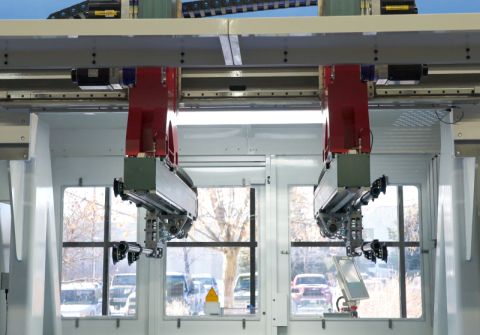 The M-Line accommodates multiple mold types/pitches and multiple cavitation (single to 48-cavity).
Processors are adapting to shorter-term business contracts which can negatively affect overall machine utilization. The highly flexible M-Line enables processors to adapt to market fluctuations and changing production volumes, thus enabling them to achieve higher machine utilization.
"Our newly designed M-Line provides an unprecedented level of flexibility and versatility that significantly raises machine output and efficiency," said John Taggert, vice president of engineering for Muller Technology Colorado.
He added that the M-Line can facilitate an increase in machine utilization to near 90%, compared to the current standard of sub-80% utilization rates.
The M-Line automation system for injection molded packaging.
The M-Line, which consists of three models for various injection machine sizes, was jointly developed by Muller Technology Colorado and its sister company, Swiss-based Muller Technology Conthey. The global platform will be manufactured in Switzerland and Colorado. A total of seven units have already been sold in North America.
The M-Line boasts a low-cost and highly flexible end-of-arm-tooling (EOAT) which can be changed out quickly. The automation system is built on one frame and designed for a small footprint with no assembly required.
The M-Line is motorized (no pneumatics), thus reducing the system's energy and air consumption. It also provides an extended period of accumulation time on the conveyor (up to one hour), reducing the number of packers needed.
A finite element analysis (FEA) study was completed to eliminate vibration and shake of the arm and beam. The unit comes with a wireless WiFi tablet system for setup and troubleshooting.
The M-Line is a low-maintenance system with 95% of replacement parts available in stock and ready for one-day delivery.