The continuous coronavirus outbreak has prompted people to wear medical masks for preventing respiratory infection.
In recent years, latest advances in material technologies have helped to improve the protection of medical masks, including employing nanomaterials for filtration efficiency and antimicrobial properties enhancements, as well as better comfort.
PP nonwoven materials favored for production
Polypropylene (PP) has a low melting point and is the most popular polymer for meltblown nonwovens.
In healthcare application, Spunbond Meltblown Spunbond (SMS) tri laminate nonwoven fabric is favored for production of medical masks. It is made up of a top layer of spunbond PP, a middle layer of meltblown PP and a bottom layer of spunbond PP.
Spunbond PP is combined with melt blown PP because they have different properties. The former has properties of high strength and durability. On the other hand, the latter has relatively weak tensile properties but due to the smaller fibers and larger surface area taken up by the fibers, it has goof wicking and barrier properties.
Therefore, they can create a strong product which can also offer a barrier to fluids and particles.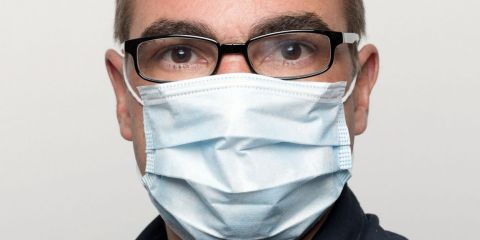 Latest advances in material technologies have helped to improve the protection of medical masks in recent years.
Nanomaterials increase filtration efficiency
Nevertheless, new respiratory diseases have been spurring researchers to develop even more sophisticated medical masks that offer better protection.
Gaining considerable applications in difference sectors, nanomaterial technology has also been employed in medical masks production. The results of some academic researches indicated that the use of nanomaterials has benefits of better filtration, permeability, antimicrobial properties and wearability.
The NASK Nanofiber Smart Masks, researched and designed in Hong Kong SAR, utilizes the patented nanofiber technology to create a thin mask that provide a high protection of N95 respirator with a comfort of a surgical mask.
Nanofibers are used because they are extremely thin, thus representing a higher surface area which increases filtration efficiency. The mask produced can be very porous offering lower air resistance and is very light.
According to the manufacturer, a unique formula is used during the creation process which incorporates anti-bacterial technology into the mask to achieve synergistic effect to protect the wearers.
NASK's N95 nanofiber respirator is certified by NIOSH (National Institute for Occupational Safety and Health). NIOSH is part of the US Centers for Disease Control and Prevention (CDC) and is responsible for the approval of personal protective equipment (PPE) to be used in the workplace.
With its nanofiber incorporated face mask technology, Verdex, a nanofibers producer based in the US, says the filter material is comprised of a series of activated carbon filaments, each about 2,000 nanometers in diameter.
It means that bacteria and viruses are drawn to the filament surface much more efficiently, because there is much more available surface.
Surgical masks vs N95 respirators
Both surgical masks and N95 respirators are designed to have filtration efficiency to bacterial and aerosol particles. However, there are many differences between them. Surgical masks are loose-fitting that creates a physical barrier between mouth/nose of the wearer and potential contaminants.
A proper 3-ply surgical mask has three layers: an outer hydrophobic layer which repels water, blood and body fluids, a middle filter layer that is designed to filter bacterial particles, and an inner hydrophilic layer which absorbs water, sweat and spit.
The most important thing to remember about surgical masks is that they are not designed to pass a fit test. They are not NIOSH approved.
Meanwhile, N95 respirators form a tight seal over mouth/nose, and filter 95% of airborne particles with a median diameter of 0.3 microns. They require fit-testing and must be adjusted to face to provide the intended effectiveness. They are NIOSH certified.
N95 respirators are regarded as better solutions for prevention of influenza. However, a new CDC-sponsored study published in September 2019 showed that surgical masks are as effective as N95 respirators in preventing laboratory-confirmed influenza amongst healthcare workers.
N95 respirators filter 95% of airborne particles with a median diameter of 0.3 microns.