SABIC has revealed its intentions for TRUCIRCLE solutions to drive to close the loop on plastics waste in 2020, together with global collaborators.
Ambitions were shared during a reception, hosted by SABIC Vice Chairman & CEO, Yousef bin Abdullah Al-Benyan, during the 2020 World Economic Forum (WEF) in Davos, Switzerland.
Business representatives came together at the iconic, energy-efficient, quick to construct and reusable ICEHOUSE building, constructed using SABIC materials. The ICEHOUSE with ICE standing for "Innovation for the Circular Economy", was a fitting venue for the occasion, underlining a key strategic sustainability priority for SABIC.
SABIC developments have led to the launch of TRUCIRCLE, a complete portfolio of solutions that span design for recyclability, mechanically recycled products, certified circular products from feedstock recycling of plastic waste streams and certified renewables products from bio-based feedstock.
Since the launch in late 2019, TRUCIRCLE has received unprecedented demand from businesses looking for commercially and environmentally viable solutions which help addressing the plastic waste challenge.
Mark Vester, Circular Economy Leader at SABIC, said: "With our TRUCIRCLE initiative, we're more committed than ever to building a circular economy and closing the loop on plastic waste in 2020."
"2020 will see us forge bold, new collaborations with high calibre partners in order to create a circular, transparent and sustainable economy for plastics, and we invite players from across the value chain to join us to truly transform our world," he added.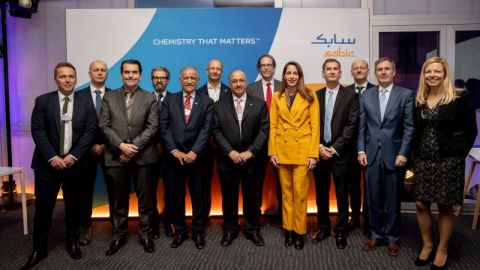 SABIC Chairman, Dr. Abdulaziz Al-Jarbou, and Vice Chairman & CEO Yousef Al-Benyan, with representatives from Tupperware Brands, Vinventions, Coveris, Plastic Energy, Haldor Topsøe and Renewi at the event to reveal plans for TRUCIRCLE solutions to close the plastics loop in 2020.
New collaborations confirmed
SABIC has also confirmed new collaborations to take the organisation ever closer to bringing its new semi-commercial plant online. The new facility in the Netherlands, located at SABIC's Geleen site, will increase the production of pyrolysis oil from plastic waste, and is expected to be operational by 2021.
Certified circular polymers will be produced from a feedstock known as Tacoil – a patented product from UK-based Plastic Energy Ltd. – from the recycling of low quality, mixed plastic waste otherwise destined for incineration or landfill.
With new agreements established recently, Danish company, Haldor Topsøe, will provide license and basic engineering for a novel hydrotreating solution, and Renewi, a leading waste to product company, will build a dedicated formulation line that will supply feedstock from mixed plastic waste for the pyrolysis process.
The output from the site will initially provide materials for SABIC's downstream collaborators but the long term intention is to rapidly scale up the supply of its certified circular polymers for all global customers.
SABIC's commitment to using more plastic waste as feedstock for its circular polymers runs parallel to its 2020 ambition to increase the uptake of recycled plastic from mechanical recycling. SABIC is determined to increase the amount of plastic it processes in Europe to 200.000 metric tons by 2025, in line with its pledge to the EU Commission.